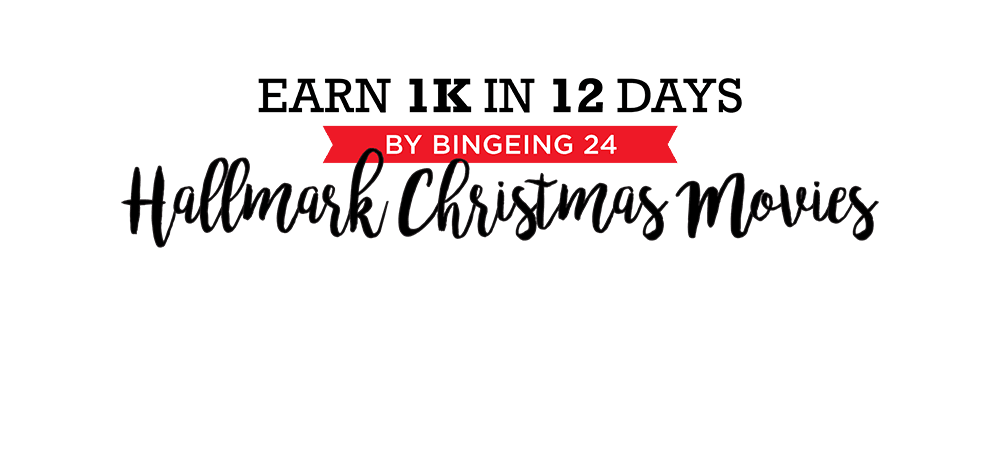 Hallmark Movie Dream Job: Watch 24 Hallmark Christmas Movies in 12 Days and Earn $1,000
'Tis the Season … to Get Paid to Watch Christmas Movies
This promotion is in no way sponsored, endorsed, or administered by, or in association with, CenturyLink, Crown Media, and Hallmark.
Put on your best pair of fuzzy socks, crank up the fire, and binge on Hallmark's cheesiest Christmas movies. Think you have the chops to make it through a Winter Love Story without crying? Can you predict if the female protagonist will end up with her boyfriend-slash-fiancée-slash-soulmate in Merry & Bright?
We're looking for a lover of all things Christmas, G-Rated romcoms, and too-close-to-home family dramas to watch 24 Hallmark Christmas movies in 12 days. If you think that's you, we'll give you $1,000 to critique a lineup of festive guilty pleasures.
The best part? We don't care where you do it. Watch it from the couch or stay under the covers and stream from bed. As long as you have a strong internet connection (Just don't spill any spoilers.)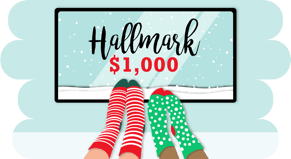 The Perfect Candidate
Rule #1: You don't like Christmas—you love it.
Rule #2: You must be over 18-years-old and be a US resident.
Rule #3: You know how to work the Gram, Twitter, or Facebook. We want someone who's willing to document their Hallmark marathon with their followers.
We want you to have opinions—lots of them! Think the grumpy Grandpa turned jolly Santa was a little overdone? Felt like the plot was a bit half-baked? Be as honest as possible in your review.
Grab the Cocoa, Grab the Popcorn
Get Your Yuletide Cheer On
If you win, we'll hook you up with your very own Hallmark binge-watching package. Here's what's inside:
Streaming service subscription
Packet of hot cocoa
Box of Christmas cookies
String of fairy lights
Mini Christmas tree
More Hallmark swag than you could ever need
In return, here's what we'll need from you:
Instagram, Tweet, or Facebook each time you turn on a movie
Include the hashtag #CountdowntoChristmas and #HallmarkDreamJob in each post
Complete the "job" by Christmas day, December 25th, 2019
Apply Now! Time's A Tickin'
Fill out the application below and explain why you're the perfect fit for the job. If you want a better shot at winning, create a 2–3 minute video showcasing your best holiday spirit. Build a snowman? Great. Sing a Christmas carol? All the better!
That's it. No ifs, ands, or buts. You watch, and we pay!
You Have Questions—We Have Answers
Expand All Collapse All
Where is the form, and how do I apply?
When is the deadline?
The deadline to submit your application is Friday, December 6, 2019 at 5:00 pm MST. (That's the 6th chocolate for you advent calendar, folks).
I live outside of the US, can I still apply?
Unfortunately, our challenge is open to US residents only.
How do I know if my application was received?
Check your inbox for an email confirmation! If you don't see it, make sure to check that pesky spam folder. The winner will be notified within 5 days of the closing date.
How do I submit/attach additional info?
We accept application materials only through our official application form. Any materials or additional attachments emailed to us or submitted outside of the application form will be disregarded. Any duplicate submissions will be deleted, as well.
How will I know if I scored the job?
We'll let you know if you were chosen for the gig within 5 days of the application closing. Keep your eyes peeled for an email from us!
Help! The application form isn't working.
Make sure you completed all required fields.
Double-check that you submitted a valid US zip code
Enter only numbers into the phone number field (e.g. 8044871297 instead of 804-487-1297)
You can also try the following steps:
Switch to a laptop or computer if you're using a mobile device
Restart your computer
Clear your cache and any cookies
Try a different browser (are you team Chrome or team Safari?)
Can I submit on behalf of a minor?
Sadly, no. A parent or guardian cannot submit an application for a minor. All applicants must be at least 18 years old.
Are you affiliated with Hallmark?
No, this promotion is not sponsored by Hallmark. We are simply a group of Hallmark lovers looking to team up with another fellow Hallmark lover!
I am a member of the media and have a question!
If you're a journalist looking for more information, please email media@centurylinkquote.com and we will reply as soon as possible.
Is CenturyLink affiliated and/or sponsoring the Hallmark Movie Dream Job?
No, CenturyLink is neither affiliated with nor sponsoring this promotion. If you have questions about the Hallmark Dream Job, please contact Internet Service Partners.
Terms and Conditions
The rules of the competition and the prize for the winner are as follows:
The promoter of this competition is Internet Service Partners whose principal office is located at 5202 W. Douglas Corrigan Way, Salt Lake City, Utah 84116.
Employees of Internet Service Partners or their family members or anyone else connected in any way with the competition or helping to set up the competition shall not be permitted to enter the competition.
Persons must be at least 18 years old, or otherwise have reached the age of majority under the laws of the state where you reside, in order to participate.
Only residents of the United States are eligible to participate.
VOID WHERE PROHIBITED.
There is NO ENTRY FEE AND NO PURCHASE NECESSARY TO ENTER THIS COMPETITION. Any purchase or consideration otherwise given by entrants will not improve one's chances of winning.
Route to entry for the competition and details of how to enter are available via Internet Service Partners. Individuals may enter to win by clicking on the participation link on Internet Service Partners' website. Upon clicking the participation link, entrants will be asked to provide their name and contact information so that Internet Service Partners can notify the winner of the results.
Closing date for entry will be December 6, 2019 at 5pm MST. After this date, no further entries to the competition will be permitted.
Only one winner will be selected from the entire pool of eligible entries. The selection process will be at the discretion of the Internet Service Partners team. The winner will be required to complete certain tasks determined by the Internet Service Partners. If the winner does not follow through with the tasks required of them, they will not receive their cash prize of $1,000.
The winner will be notified by email and/or letter within 5 days of the closing date. If the winner cannot be contacted or does not claim the prize within 48 hours of notification, we reserve the right to withdraw the prize from the winner and pick a replacement winner.
The winner specifically acknowledges that a package shall be provided and fulfilled by Internet Service Partners.
Internet Service Partners will notify the winner when and where the prize can be collected.
The winner will receive a survival package either mailed or hand-delivered to the winner.
No cash alternative to the prize will be offered. The prize is not transferable. Prizes are subject to availability and Internet Service Partners reserves the right to substitute any prize with another of equivalent value without giving notice.
The winner agrees to the use of his/her name and image in any publicity material. Any personal data relating to the winner or any other entrants will be used solely in accordance with current federal and state data protection legislation and will not be disclosed to a third party without the entrant's prior consent.
Hallmark is not liable for any claims or threats resulting from this contest.
Internet Service Partners' decision in respect of all matters to do with the competition will be final and no correspondence will be entered into.
This promotion is in no way sponsored, endorsed, or administered by, or in association with, CenturyLink, Crown Media, and Hallmark.